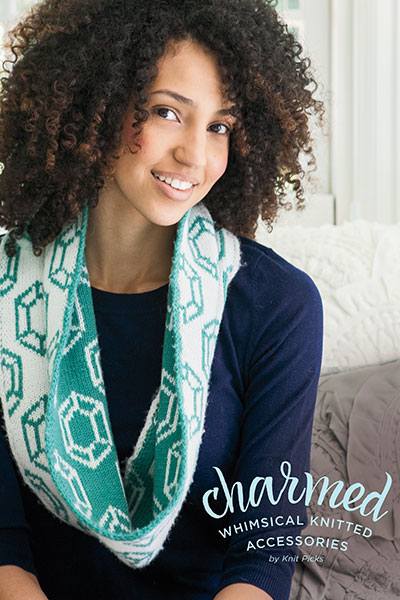 "Feathers and foxes, gorgeous textures, and pops of color adorn Charmed: Whimsical Knitted Accessories. From cats chasing balls of yarn, to gnomes, to sparkling jewels, these witty pieces will bring a smile to your face and to everyone who sees them. Packed with 23 memorable accessories that make great gifts, Charmed will ensure you're never without your next fabulous and unique knit." - Knitpicks.com
I am so incredibly excited to see this pattern collection finally released!! When working with a publication things usually take 6 months to 1 year from the time that I send in my submission until the collection is released and during that time I know what my interpretation of the theme was, but it's a killer to have to wait to see all the other patterns that are part of the collection. When I saw the mood board for "Charmed" I knew that I wanted to be a part of it if I could because it's just so darn fun and cute! The finished collection blew me away, though and I feel so honored that my pattern (
Jewel Be So Cozy Circle Scarf
) was chosen for the cover image.
Seriously, there are so many great patterns in here that I want to make as Christmas gifts (and gifts for me) this year. First off is the
Rectrix Scarf
by
Angie Schwenn
. To me, this is the epitome of the basic scarf and looks like the perfect comfort knitting right about now. If you didn't already know, I love working the linen stitch and I love it even more when there is more than one color involved because it looks way more difficult than it actually is and the finished fabric drapes beautifully. I'm debating on making mine out of either something from my sock yarn stash or from my hoard of Diadem. The original pattern calls for Andean Treasure which is a sport weight, but it's a scarf and I don't mind if mine is a bit smaller/thinner than the original pattern. Plus, I can always just cast-on a few extra stitches and knit for a little bit longer if I want the exact same measurements as the original pattern.
 Following in the cozy-knitwear-theme is the pattern for the
Nora Mitts
also by
Angie Schwenn
. These mitts are right up my alley because there is no messing around with fingers or finger holes. I love gloves best, but they suck so much to knit and usually end up in time-out until I just throw them away out of frustration. So, mitts are perfect! Especially when the part over your fingers is a bit longer than normal as with these ones. I'm also completely in love with the simple texture patterning on them in combination with the color-blocking and 2x2 ribbing. No joke, these mitts just make me so happy. I'm not sure what yarn I want to make mine out of, though. Part of me wants to just order the exact yarn used for the originals (Andean Treasure), but part of me wants to make them to match my Rectrix Scarf. Since Angie has included so many sizing options for this pattern, it shouldn't take more that making a swatch and measuring to be able to substitute the fingering yarn for the sport weight.
Every Fall for the past few years I've intended to make myself some leg warmers, but just haven't for one reason or another. This year I'm really super excited about casting on the
Eclate Leg Warmers
by
Holli Yeoh
. Normally, I immediately shoot down a pattern if it has bobbles in it anywhere, they just don't do it for me. Holli is brilliant in using them as faux buttons on these stripey leg warmers and I'm just in love with them! I have no idea what yarn I'll be using for sure, but I know that I'm going to be knitting the long size and I want the main color to be a bright turquoise blue with neon yellow and green stripes/bobbles. If I like knitting them enough, I might make a
matching cowl
, too.
There are a lot of adorable hats in this collection, all with super puffy, amazing pom-poms but my favorite is the
Circus Hat
by
Trelly Hernandez
. It has 2-color brioche ribbing, color-work "dots" (they always look more like mini hearts to me) and a contrast pom-pom to top it off so, obviously, this is the best hat pattern in the book. It's fun and cute and I really want to make one for both me and little Mr. Cairo in Christmas colors. There is only one size written, but it's done in worsted-weight yarn, so I'll try going down a yarn weight or two and a couple needle sizes and I should be able to make it work for a kid-sized hat.
Have you looked at all the patterns in
the collection
, yet? Which ones are you itching to cast-on and what yarns are you going to use? I'm so excited to see everyone's finished projects!! Tag me ( @YumiYarns ) on Instagram or Facebook if you're making something from this fun collection as a gift for yourself or for someone else.
Have a great week and happy knitting!!  ^_^